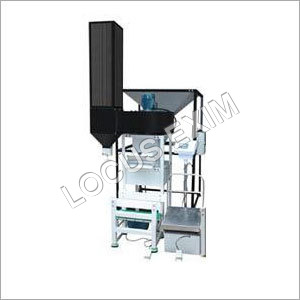 Vacuum Packing Machine
Product Code : LE-08
Product Description
Vacuum Packing Machine

We are a well known exporter, trader, service provider and supplier of Vacuum Packing Machine. The offered machine is notable for its cutting edge manufacturing technique, long lasting nature time and energy saving facilities. Featured with low maintenance cost, the Vacuum Packing Machine is required to keep the original flavor and nutritious value of processed food intact.
Vacuum packing is a method for removing air from the packages before sealing. This method of packing involves (manual/ automatic) placing of items in a plastic-film package while removing the air inside and precisely sealing the pack. The main intent of vacuum packing is to remove any oxygen from the container or package in order to extend the shelf life of food items or other such products. It is also useful in reducing the volume of the contents & package. By reducing atmospheric oxygen, vacuum packing limits the growth of fungi or aerobic bacteria as well as prevents evaporation of volatile components. This method of packaging is widely used for packing of cereals, cured meats, nuts, medicines, cheese, coffee, smoked fish, meat, etc.
Locus Exim is offering machines which have microprocessor based systems thereby deliver high level of packing performance. Digital display, sturdy & heavy gauge design, and electrical protection systems further add to the safety as well as operational efficiency of our machines. Varied types of vacuum packing machines include Single Vacuum Chamber Machines, Double Vacuum Chamber Machines, Thermoforming (rollstock) Vacuum Packaging Machines, Automatic Belt Vacuum Chamber Machine, etc.
Specifications:
Vibratory Settling Platform
Input and Output Conveyors
Co2 Pre Heater Regulator (ESAB)
Set of Former Sleeve 50 Lbs Ss
Set of Former Sleeve 25 Lbs Ss
Cyclone Separator
Platform Digital Weighing Balance Roller Conveyor
Vibratory Feeder, Hopper, Hair and Light Particle Remover
The technical details of our product include:

Vertical Vacuum Packaging Machine
Input & Output Conveyors
Vibratory Settling Platform
Co2 pre heater + regulator ( ESAB )
Platform digital weighing balance + roller conveyor
Set of Former + Sleeve 50 lbs SS
Set of Former + Sleeve 25 lbs SS
Hopper,Vibratory feeder,Hair & light particle remover
Cyclone Separator
Technical Specifications
| | |
| --- | --- |
| Minimum Order Quantity | 1 Unit |
| Automation Grade | Automatic |
| Phase | 3 phase |
| Portable | Yes |
| Power Source | Electric |
| Quantity Unit | Kilograms |
| Sealing Length | 40-60 inch |
| Voltage | 240 V |